Description
Araknis Networks® 310 Series L2 Managed Gigabit Switch with Full PoE+ and Rear Ports
From surveillance cameras to wireless access points, this managed PoE solution makes integration on the network easier than ever. Our flagship series of switches supports full PoE and PoE+, as well as a robust power budget for any job. 1Gbps speed across all ports allows for powerful connectivity, while a user-friendly GUI and multiple mounting options ensures a quick and easy installs. And like all Araknis switches, you have remote management capability via OvrC. Simply put, this switch has it all.
Mounting Notice
–
The 8-port model of this switch ships with left-justified rack ears. Visit the corresponding product page to order center-justified ears.
Firmware Update
–
This product has new firmware available. Please update your switch during installation. You can update when you claim the switch in your OvrC account, or download the firmware from the support tab.
Fully Managed
Fully managed means full control of the network. This switch provides a full L2 managed solution with functionality to handle the most complex and robust installs.
1Gbps Throughput
With a powerful 1Gbps on all ports simultaneously, this switch can support the backbone of an install or simply act as a desktop add.
Full PoE+
Got a power-hungry install? No worries, this switch has ports that are fully PoE capable up to 30W on each port, up to 15W on all port simultaneously, giving you a robust power budget to handle practically any job.
Improved GUI
A clear and concise GUI with simple VLAN and Link Aggregation setup makes install work a breeze. And because the GUI is consistent with our routers and WAPs, you can avoid the learning curve altogether.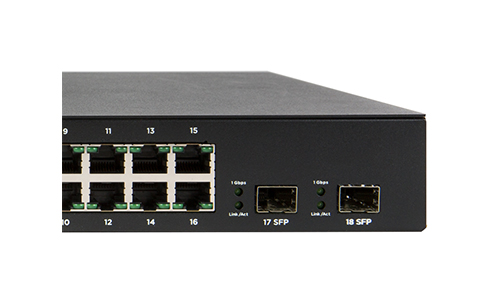 Dual SFP Uplinks
Use this switch's SFP ports to provide RJ45 uplinks to other devices, and/or fiber uplinks to extend the network over long distances while getting a stronger signal. Featuring a dedicated fabric, they don't share a backplane with any other ports on the switch, which means you get a full 1 Gbps and don't have to sacrifice a dedicated PoE port to use them (no combo ports here!).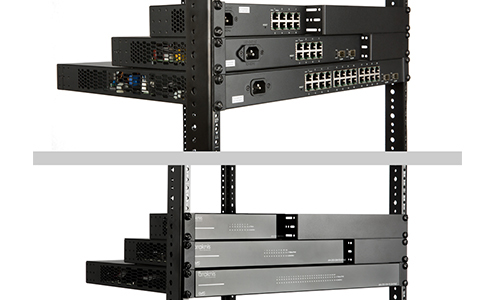 Multi-Mounting
Mounting has never been easier. Due to its 1U design and available accessories, it can easily be mounted in a rack, wall, or anywhere in between. Included rack ears make for a sleek, left-justified design, while optional center-mount rack ears offer a more traditional look. To order center-justified rack ears.