Description
Nearus USB 2.0 PTZ 1080p Web Conferencing Camera with 10x Zoom – Black
Looking for an easy and affordable way to add video conferencing to your next conference room install? The Nearus USB 2.0 PT Web Conferencing Camera with 10x zoom was made for custom conferencing solutions! Designed for use with your favorite web conferencing software (like Skype, Zoom, GoToMeeting) this USB camera provides 1080p full HD video without all the hassle of typical conferencing equipment. Equipped with all the features custom integrators want and need – like serial control and a custom mounting shelf – this camera makes video conference room installs quick and easy.
Important Notice
 – 
This product only comes with a 3-inch USB 2.0 cable. It requires a USB 2.0 extension cable for installation.
USB 2.0 Video Output
Computers and web conferencing are this camera's strong suit. The easy-to-extend USB 2.0 connection outputs sharp video and allows it to be used as a webcam for any conferencing software platform – like Skype, Zoom, GoToMeeting or any other platform you prefer. Simply use our USB product line to easily connect your camera to any PC – either room dedicated or BYOD.
Remote Pan, Tilt, and Zoom with Presets
With the ability to remotely PTZ, this camera can easily be adjusted to the correct position focal – like a podium or a CEO's face – and stay there. And when you need to remember focal positions, there are up to 64 presets that can be easily stored and recalled. Easily program positions for a whole room, left side, right side, and head-of-table shot; this camera's savvy settings are sure to impress!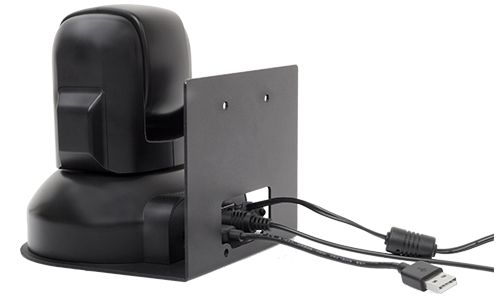 Have Shelf, Will Mount
Need a mounting shelf? Unlike the other guys, we went ahead and included one in the box! This sturdy custom shelf was designed specifically for the Nearus USB 2.0 PTZ Web Conferencing Camera for a clean, sleek look. Plus, it's designed to mount directly to a double gang junction box for easy construction planning or retrofitting that keeps your outlets accessible.
Under Control
With easy connections for RS-232 and IR control, this camera was made for custom integration. A front IR port provides hand-held remote functionality while the rear port allows for custom integration. An additional rear serial port includes two different types of adapters for easily connecting field wires. This camera also has built-in functionality for control over USB, which allows the far side of the conference to control the camera's PTZ. Note: this requires installation of the provided driver and software platform support (such as Zoom).
Bang – Zoom!
For medium to large conference rooms and training rooms, image zoom is a must have. With 10x of optical zoom, this camera allows you to focus on what's important. And with fast and slow speed zoom, you control precisely what's captured.