Description
Strong Horizontal MoIP Shelf – 2 Transmitters | 1U
Get a premium rack mount solution with the Strong Horizontal MoIP Shelf. Designed specifically for Binary Media over IP transmitters (B-900-MOIP-4K-TX), it offers you ample ventilation and broad flexibility – all with the durability you've come to expect from Strong. This 1U shelf fits two (2) horizontally oriented MoIP Transmitters, minimizing rack clutter without compromising device space. Whether you're rack-mounting five or fifty transmitters, this solution will help you create a clean, custom solution every time.
Purchase one shelf for every two transmitters you're installing. Plus, each kit includes one blank insert for installs with an odd number of transmitters. Mount this shelf on front or back of the rack, with jacks facing inward or outward from the rack, allowing for increased flexibility.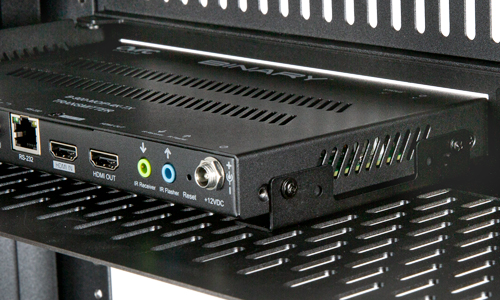 Quick Install & Optimal Rack Placement
Simply attach each MoIP transmitter to the shelf with provided mounting brackets. With devices secured, each 1U rack shelf can be quickly and easily installed by sliding it into place. This modular design allows you to place each transmitter near sources across the entire rack, simplifying cable connections and allowing for easier device access.
Optimized for Heat Management & Rack Space
A minimalistic design allows for fixed spacing and ideal air flow between devices, as well as free flow of air throughout the rack.
2-Year Limited Warranty
This Strong product has a 2-Year Limited Warranty. This warranty includes parts and labor repairs on all components found to be defective in material or workmanship under normal conditions of use. This warranty will not apply to products that have been abused, modified or disassembled.