Yamaha AVENTAGE AV Receiver | 7.2 Channel x 120w
The AVENTAGE line of high-performance AV receivers is based on the audio design concept of providing a massive, full-bodied sound for movie sound effects and the accurate reproduction of music sources. By expertly harmonizing traditional and advanced technologies, every factor that affects sound quality, from materials and parts to construction, layout, vibration damping (unique foot) and "fine-tuning" the sound, is designed to achieve the best possible audio quality. As a result, every AVENTAGE model has the ability to reproduce the most subtle details of high-definition sound, so you can install a truly high-class sound studio experience for your clients.

AVENTAGE – Premium Audio
The Total Purity Concept, which Yamaha has been cultivating for many years, encompasses high drive amp technology, high purity preamplification, anti-vibration technology and independent pure power supplies. All models have fully discrete power amplifiers that help minimize distortion and are designed with high-quality parts needed to achieve the highest permorfming install possible. They also adopt pure independent power supplies, allowing dedicated power supplies for the analog and digital circuitry to prevent digital noise from affecting analog circuitry.

AVENTAGE – Advanced Design
The feet of the receiver feature a high-density structure which utilizes two different kinds of interior ribs to enhance strength and damping performance. Plus, the receiver includes the Anti-Resonance Technology Wedge, which is a fifth foot in the center of the unit. Installation stability is improved and chassis resonance is dispersed, effectively eliminating external vibration. The low-range response is enhanced, while resonance peaks in the mid- and high-range are reduced, providing dynamic sound and accurate. Plus, AVENTAGE components feature the same sleek, clean design, with an elegant aluminum front panel and silky touch volume/selector knobs for a truly beautiful and functional install.
AVENTAGE – Insightful Interiors
The interior of the unit has been precisely planned, circuit-routed and built so that the left and right channels are physically and electrically isolated. This naturally maximizes channel separation but also greatly improves signal to noise ratio and also helps to achieve a wide open sound stage for a superior receiver. It's also reinforced with cross members in an H shape to provide an extremely rigid and stable frame. This reduces chassis vibration to virtually zero even during high volume output (seemingly minor vibrations can affect the sound), maintaining the highest audio quality for your client.
AVENTAGE – AI Audio
Surround AI technology built into the DSP analyzes the scene of your client's entertainment content and creates an optimal surround effect to reproduce it with the greatest effect. In real time, this AI instantaneously analyzes scenes by focusing on distinct sound elements and automatically optimizes the surround effect. The effect is a compelling sense of realism beyond conventional sound field effects. And by incorporating a SABRE ES9007S Premier Audio DAC from ESS Technology to achieve an exceptionally good signal-to-noise ratio and up to 120 dB of dynamic range, this AV receiver produces professional quality digital audio.

Seamless Integration
Designed with the custom-install space in mind, Yamaha offers custom drivers for Control4 and other leading control systems for most of their product lineup. Plus, SnapAV will soon deliver the deepest third-party OvrC Pro integration to date, with enhanced diagnostic data on Yamaha products. And with Google Assistant and Alexa compatibility, integration has never been easier.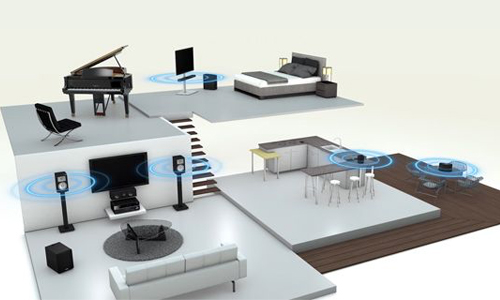 MusicCast
Start with this AV receiver in your client's home theater and expand to other rooms with MusicCast speakers, sound bars or Hi-Fi gear. Let your clients stream their music and TV sound everywhere using their existing Wi-Fi network. With MusicCast, the system grows with them, and there's no need to run wires through walls.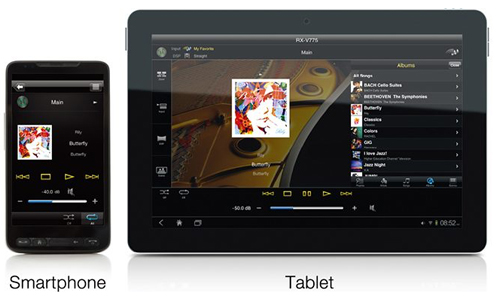 MusicCast App
The free MusicCast app puts control of the AV receiver in the palm of your client's hand. They can sccess their sources and streaming services, adjust volume and sound settings, and link with other MusicCast devices for simultaneous playback throughout their home.
4K Ultra HD HDMI Support
Providing complete compatibility with the latest HDMI standards, this AV receiver delivers transmission of 4K video at 60 frames/second pass-through. It also supports HDR (high dynamic range) video including Dolby Vision and Hybrid Log-Gamma. This provides incredible contrast, smooth tone and rich, bright colors—giving your client full, high-definition enjoyment with an exceptionally realistic and natural picture quality.
Dolby Atmos and DTS:X
Compatibility with these amazing sound technologies creates an extraordinary end-user experience. They deliver breathtakingly rich and realistic surround sound, positioning and moving individual sounds to any virtual point in your client's room, including objects moving overhead. Give your clients the overwhelming realistic movement and immersion in videos — right in their home.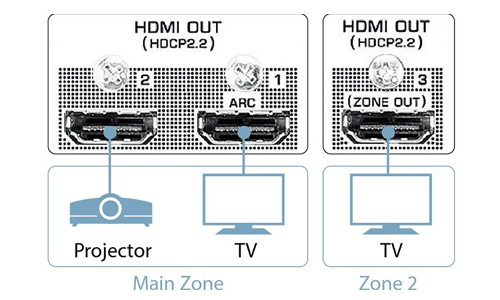 Three HDMI Outputs
With three HDMI output terminals, you can simultaneously connect to a TV, projector, or other display, allowing your client to watch two separate video sources at the same time. They can also broadcast the same video source (such as a ball game) across all outputs.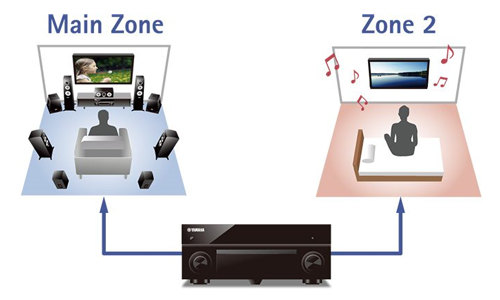 HDMI Zone Switching
This allows your client to transmit video or audio content to a TV or home theater system in another room (Zone 2) via HDMI. This also lets them enjoy viewing and listening to the same main room content (where the AV receiver is installed), or even different content.
7.2-Channel Pre-outs
Add an external power amplifier (pre-main amplifier) to this AV receiver to improve and enhance the sound of your client's speakers. By using a power amplifier to drive the important front channel in home theater, this added power supports your install with an emphasis on sound quality.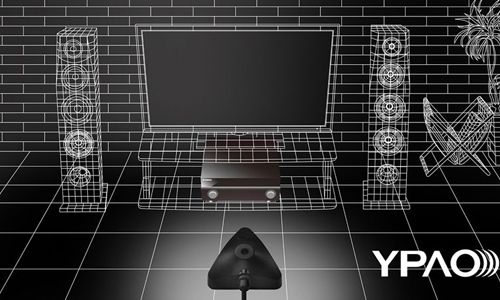 YPAO – R.S.C. (Reflected Sound Control)
YPAO-R.S.C. (Reflected Sound Control) analyzes your client's room acoustics and measures various speaker characteristics, then calibrates audio parameters to achieve optimum sound at any of eight listening positions. It uses precision EQ calculation to achieve the most natural room acoustics possible and Reflected Sound Control to correct early reflections for studio-quality sound. It also provides DSP Effect Normalization, which varies the CINEMA DSP parameters according to the reflected sounds.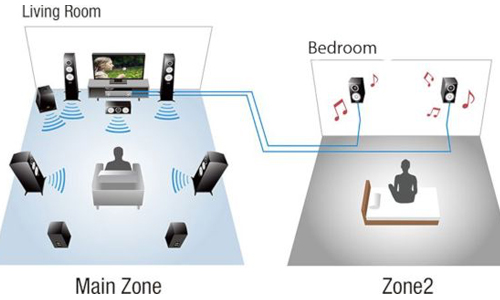 Zone 2
This feature, also known as Intelligent Amp Assign, allows users to enjoy stereo sound in a second room. When Zone 2 is turned on, the two surround back channels in a 7.1-channel system will be redirected to the two speakers in Zone 2, while giving the Main Zone 5.1 channels of power. Thanks to this feature, there's no need for your client to switch the speaker cables on the rear of the AV receiver.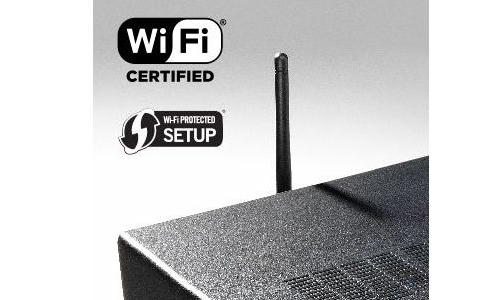 Wi-Fi, Bluetooth, and AirPlay Compatible
Built-in Wi-Fi allows for a connection to your client's wireless router, greatly simplifying system integration for music streaming or enjoying networked audio (PC/NAS). Bluetooth connectivity is also included, allowing your client to stream into their receiver or out from their receiver to another Bluetooth device such as a pair of headphones.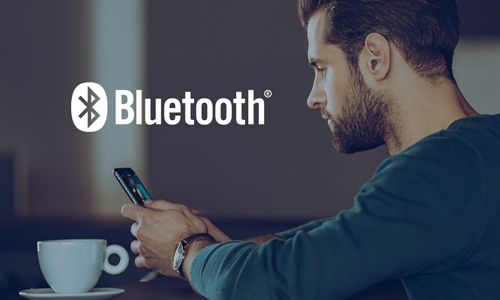 Bluetooth Output
The RX-A1080 is equipped with Bluetooth technology, making wireless operation more convenient than ever for your client. They can stream music from the RX-A1080 to Bluetooth headphones for private listening or to Bluetooth speakers. Bluetooth output has been improved, reducing lip sync delays from digital sources.
Wireless Surround Speakers
Combine this AV receiver with MusicCast 50 or MusicCast 20 wireless speakers and easily create a home theater for your client with wireless surround speakers in 5.1-ch. Install stunningly realistic sound with a clean, clutter-free setup and turn your client's current living room into an entertainment environment where they can fully enjoy movies and music.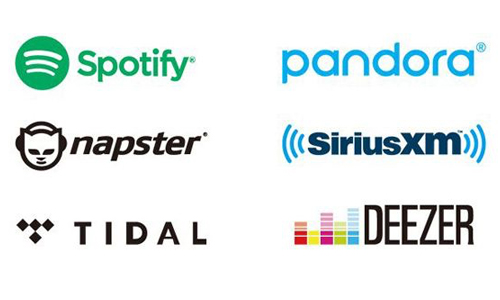 Streaming Services
Give your client a world of music with built-in music streaming services. Now they can sync their playlists and likes from their smart device to their receiver and discover new music even easier with their receiver.
Phono Input
Give your clients the ability to enjoy music from their vinyl collection through the phono input terminal.