Yamaha AVENTAGE AV Receiver | 7.2 Channel x 110W
The AVENTAGE line of high-performance AV receivers is based on the audio design concept of providing a massive, full-bodied sound for movie sound effects and the accurate reproduction of music sources. By expertly harmonizing traditional and advanced technologies, every factor that affects sound quality, from materials and parts to construction, layout, vibration damping (unique foot) and "fine-tuning" the sound, is designed to achieve the best possible audio quality. As a result, every AVENTAGE model has the ability to reproduce the most subtle details of high-definition sound, so you can install a truly high-class sound studio experience for your clients.

AVENTAGE – Premium Audio
The Total Purity Concept, which Yamaha has been cultivating for many years, encompasses high drive amp technology, high purity preamplification, anti-vibration technology and independent pure power supplies. All models have fully discrete power amplifiers that help minimize distortion and are designed with high-quality parts needed to achieve the highest permorfming install possible. They also adopt pure independent power supplies, allowing dedicated power supplies for the analog and digital circuitry to prevent digital noise from affecting analog circuitry.

AVENTAGE – Advanced Design
The feet of the receiver feature a high-density structure which utilizes two different kinds of interior ribs to enhance strength and damping performance. Plus, the receiver includes the Anti-Resonance Technology Wedge, which is a fifth foot in the center of the unit. Installation stability is improved and chassis resonance is dispersed, effectively eliminating external vibration. The low-range response is enhanced, while resonance peaks in the mid- and high-range are reduced, providing dynamic sound and accurate. Plus, AVENTAGE components feature the same sleek, clean design, with an elegant aluminum front panel and silky touch volume/selector knobs for a truly beautiful and functional install.

Seamless Integration
Designed with the custom-install space in mind, Yamaha offers custom drivers for Control4 and other leading control systems for most of their product lineup. Plus, SnapAV will soon deliver the deepest third-party OvrC Pro integration to date, with enhanced diagnostic data on Yamaha products. And with Google Assistant and Alexa compatibility, integration has never been easier.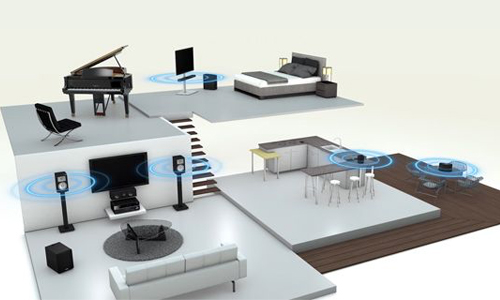 MusicCast
Start with this AV receiver in your client's home theater and expand to other rooms with MusicCast speakers, sound bars or Hi-Fi gear. Let your clients stream their music and TV sound everywhere using their existing Wi-Fi network. With MusicCast, the system grows with them, and there's no need to run wires through walls.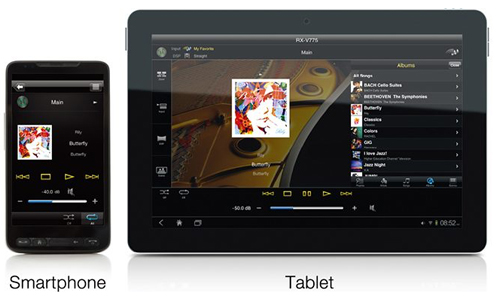 MusicCast App
The free MusicCast app puts control of the AV receiver in the palm of your client's hand. They can sccess their sources and streaming services, adjust volume and sound settings, and link with other MusicCast devices for simultaneous playback throughout their home.